Description
Tips to buy High Power LED Football Stadium Light

Customization is a paramount factor. TACHYON Light grants tailor-made lighting solutions for each individual Game of Football internationally, which is referred as "Premium Precise Optical Lens System" at TACHYON. The Football Lights are subjected to fine adjustment on optic & asymmetric lens before delivery, and thus provide you with bright illumination having excellent lighting uniformity.
In the past decades, high power Metal Halide Lights are applied to lighten Football Pitches in Football Stadiums. Metal Halide might be low-priced & easily available; however its energy consumption is very high & the life span is relatively short; and hence, you might spent a lot on maintenance of Metal Halide Lamps. Nevertheless, this is completely a different story if you switch to LED Stadium Lights.
The luminous efficiency of LED Sports Light is about 3-4 times of that of Metal Halides; therefore, each 2000W Soccer Stadium LED Light can replace 5000W Metal Halide Lamps. Then, the life span of LED is approximately 80,000 hours, which is equivalent to 27 years if they are operated 8 hours per day. What is more, heat generation of LED is much lesser than MH because of the completely different working principle, with the fact that our own Aluminum Fins Heat Sink effectively dissipates the heat generated from LED chips. It is especially important for the application of Football Stadium Light; if the lights go off inside stadium because of persistent heat which damages the LED chips.

What the experts say about LED Football Field Lights & Football Stadium Lights
ESPN (*Note: Full name as "Entertainment Sports Programming Network", a US 24-hour Sports TV Broadcasting Network) representative, Kenton, mentions LED Football Stadium Lights are far more better than Metal Halide Lights. There are two reasons. First, LED lights can be turned on or off immediately while MH requests 5-10 mins warm up. Long buffer time indeed affect user experience. Second, the High Power Stadium LED provide us with flicker-free illumination, which is vitally important for recording, high speed photography, and especially for instant replay for spectators inside stadium. Flickering replay makes the whole thing unprofessional & actually it is not acceptable for International Football Matches, he added.

Despite the countless advantages of LED Lights, numerous San Francisco Sport Teams, in 2012, wonder if there is Better Lighting Solution for Levi's Stadium apart from LEDs. It is because they believe LED is a relatively new technology and doubted that if this technic matures to use. In fact, Light Emitting Diode has been developed over decades, discovery of blue light illumination technology induces unprecedented change in this field as it greatly enhances brightness of white light production. Nowadays, Stadium Owners are prone to install HIGH POWER FOOTBALL STADIUM LIGHTS because of its overwhelming & excellent brightness, energy-saving and life span over Metal Halide Lamps, which is consistent with the views of Jamey, President of Houston Texans. "With its remarkable brightness, the Metal Halides can be replaced to LED light having lesser power consumption without affecting the original brightness. The electricity bill drops 33% after replacement of Metal Halide Lights.", he mentioned. Truly, a 2000W Ball Field LED Lights is able to retrofit 5000W Metal Halide Lamps. The Arena is so-called "Revitalize" with the use of Football Stadium LED Lights, and allows the Stadium becomes more presentable. Since the installation, the Stadium owners receive complaint-free comments about the Sports Flood Lights, which are given by television broadcasting institution or photographers.

Furthermore, Dave from PNC Stadium (*Note, which is a Ballpark located in North Shore of Pittsburgh, Pennsylvania) is satisfied with life span of the lights installed in Football Fields. He claims the LED lightings, which has been operated for 6.5 years, are still function normally, and we cannot see any observable decline of brightness. What is observable? In accordance with the explanation provided by US Energy Science, when the lumen (a representation of brightness of light) drops from 100% to 7o%, people will feel the brightness of light drops significantly. This general perception or proprioception is quantified to L70. Since Dave's Stadium Lights are applied for just 6.5 years, it is normal for him to feel nothing about the brightness. Lesser frequent relamp & maintenance means lesser cost, which is a strong inventive for the Stadium owner replacing Metal Halide to LED, though the cost of LED Light is slightly higher than MH.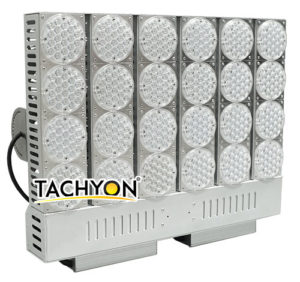 Strength of our High Power Sports & Stadium Floodlights

You can always obtain top-of-the-line & quality LED Football Stadium Lights.

95 % energy efficiency – most of energy is used to light up the Football Field Lights.

High Power mode available: 2000W LED, which retrofits 5000W Metal Halide Lamps.

Anti-glare & zero flickering optics that make good user experience in 4K & HDTV Broadcasting and slow-motion photography.

Premium Optical Lens System guarantees excellent brightness & ground reachability of Turf Floodlights.

Light-weight & Strong Aluminum Alloy Shell & Corrosive-resistant Silicone Rubber Cable.

Warranty of 5 years for our LED Stadium Floodlighting products.

Lifespan of 80,000 at L70 which greatly saves you maintenance cost.

Modular design enables partial repair of LED chips to save your maintenance time.

Dense Aluminum Fins structure & hollow structure provide effective heat dissipation of Outdoor Stadium Lights, and thus enhances life span of lights.

Board range of working temperature: -25⁰C to 55⁰C.

Good water-proof design: IP67 rating, which is essential for Stadium Floodlights.

Premium supports which include prompt after-sale service, repair of light if necessary.
---
Specification – Optics
Item no: LS-ARE-2000
Power: 2000W
Light Source: CREE-XTE (optional OSRAM-SQUARE)
Luminous Efficiency: 130 lm/W
Luminous Flux: 260,000 lm
Beam Angle: 15°, 25°, 30°, 45°, 70°, 95°
Color Rendering Index: 80
Color Temperature: 2700 to 3500K; 5000 to 7500K

Power Supply
Driver: Inventronics (optional Mean Well)
Power Efficiency: 0.9
Power Factor: 0.95
Input Voltage: 90-295 VAC, 50-60 Hz
Storage & Durability
Storage Temperature: -40°C to 80°C
Working Temperature: -25°C to 55°C
Lift Span: 80,000 hours at L70
Water-proof: IP67 rating
Size & Weight
Dimension: 1090 x 483 x 160 mm
Weight: 44.6 kg
Weight without driver: 30.2 kg
---
Price of 2000W LED Football Stadium Light

Our Sports LED Football Field Light & Stadium Floodlights are of affordable price, without compromising on the quality. Please do not hesitate to contact us to get the most competitive price by means of the form below, or at info@tachyonlight.com. We are looking forward to your message.