Description
LED Gym Lights for Sports Facilities Buying Tips
The versatile LED Gym Light is suitable for different venues such as indoor Basketball Court, Tennis Court, Football Field, Volleyball Court, and Gym Room. The Premium Lens inside the LED Gym Light gives out remarkable brightness that save energy up to 70% when comparing to conventional Metal Halide Lamps. The electricity bill can be cut to 1/4 if you select LED Lights. Besides, exceptional Life Span of 80,000 hours which is equivalent to 27 years operation (8 hours per day) saves your maintenance frequency and cost to a great extent. Below is our High Quality LED Gymnasium Light Specification. If you would like to buy LED Gym Lights or acquire the price of them, you can contact us using the contact form at the bottom of this page or drop us a message at info@tachyonlight.com
Model
Power
Lighting Efficiency
Luminous Flux
Retrofit
Beam Angle
Color Temp.
Working Voltage
LS-PFL-100
100W LED Gym Light
170 lm/W
17000 lm
250-400W Metal Halide
25°,40°,60°,90°
2800-7500K
90-295 VAC
LS-PFL-150
150W LED Gym Light
170 lm/W
25500 lm
250-400W Metal Halide
25°,40°,60°,90°
LS-PFL-200
200W LED Gym Light
170 lm/W
34000 lm
400-1000W Metal Halide
25°,40°,60°,90°
LS-PFL-250
250W LED Gym Light
170 lm/W
42500 lm
400-1000W Metal Halide
25°40°,60°,90°
LS-PFL-300
300W LED Gym Light
170 lm/W
51000 lm
1000-1500W Metal Halide
25°,40°,60°,90°
LS-PFL-350
350W LED Gym Light
170 lm/W
59500 lm
1000-1500W Metal Halide
25°,40°,60°,90°
LS-PFL-400
400W LED Gym Light
170 lm/W
68000 lm
1000-1500W Metal Halide
25°,40°,60°,90°
LS-PFL-500
500W LED Gym Light
170 lm/W
85000 lm
1000-2000W Metal Halide
25°,40°,60°,90°
LS-PFL-600
600W LED Gym Light
170 lm/W
102000 lm
1000-2000W Metal Halide
25°,40°,60°,90°
LS-PFL-700
700W LED Gym Light
170 lm/W
119000 lm
1500-2000W Metal Halide
25°,40°,60°,90°
LS-PFL-800
800W LED Gym Light
170 lm/W
136000 lm
2000-4000W Metal Halide
25°,40°,60°,90°
LS-PFL-900
900W LED Gym Light
170 lm/W
153000 lm
2000-4000W Metal Halide
25°,40°,60°,90°
LS-PFL-1000
1000W LED Gym Light
170 lm/W
170000 lm
2500-4500W Metal Halide
25°,40°,60°,90°
The LED Gymnasium Lighting can be installed at different height, the sports ground with different size. To ensure better user experience, the LED Gym Lights are anti-glare and flicker-free, which supports 960 fps slow motion; therefore, you will not miss any moment under your photographic devices. Besides, the LED Gym Light can be turned on and off instantly, which is more convenient than the traditional Metal Halide Lamps that need 10-minute warm up. The exclusive heat dissipation system inside LED Gym Lighting maintains intrinsic temperature at an low range, which further enhances the life span & brightness of the Flood lights.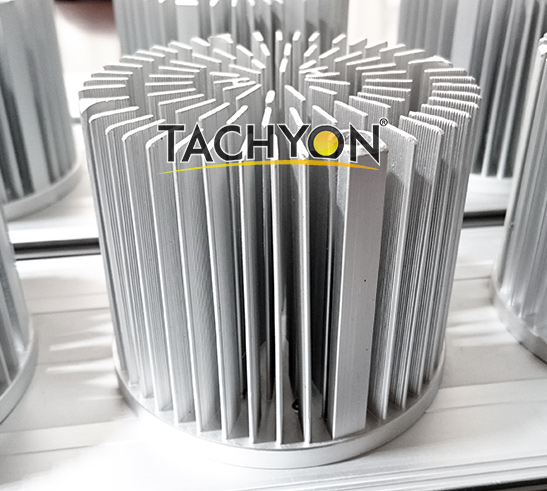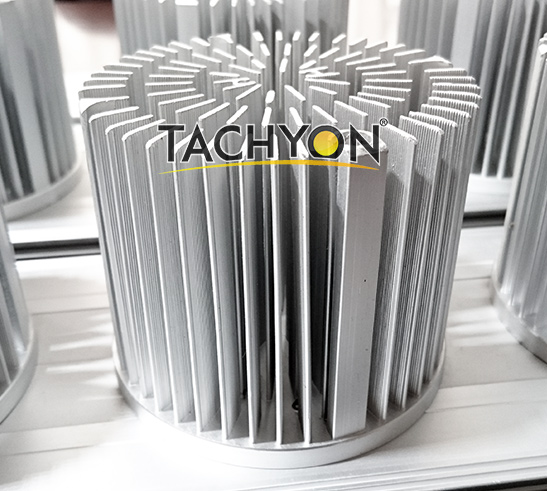 Dense Aluminum Fins to provide Large Surface Area for Effecitve Heat Dissipation.
---
Price of LED Gymnasium Light

We promise our LED Gym Lights are of competitive price, without compromising on the quality. To obtain the discounted price, please feel free to drop us a message using the form below, or at info@tachyonlight.com. Thank you.