Sea Port Lighting LED, Shipping Port Lights, Harbor Light | TACHYON LED Flood Lights
LED Sea Port Lighting is one of the most challenging projects in port lighting industry. The area and thus the power requirement of Sea Port Lights would be very demanding, with the fact that the prevention of corrosion because of the high concentration salty sea mist. Besides, the crane workers and drivers rely heavily on high quality LED Sea Port Lighting & Shipping Lights that have high lighting uniformity.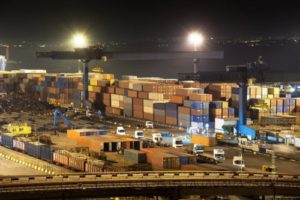 Overview of Sea Port Lighting LED & Harbor Lights
In harbor and container ship facilities, we use a large pole having multiple High Power LED Sea Port Lights to provide general flood lighting illumination throughout the sea port & shipping port. These lights require a large amount of energy consumption, but the LED port lighting option of TACHYON Lights has been reduced by 80%. As for the conventional lamps, the problem is that conventional sea port light sources such as High Pressure sodium and metal halide are bright when new, but lumen deterioration (reduction in lux level) is likely to occur in a relatively short time. Replacing a light bulb is not an easy task with a light installed at a height of 100 to 150 feet, therefore, a long-lasting LED Sea Port Lighting Solution is vitally important.
The second problem is the traditional design of Sea Port Lights – there is a rigid mount of sea port lights and it tends to face straight to the ground, which makes a great impact on the lighting uniformity. In light of this, TACHYON develops Premier Precise Optical Lens System so as to design and modify the LED Sea Port Lighting Solution in case-by-case basis to provide super bright & uniformity lights for your Sea Port.
Thus, with the TACHYON high power LED Sea Port Lighting systems, a newer, better lighting systems that can be employed to improve both the light quality, amount of light & the light distribution inside the sea port. TACHYON LED Sea Port Lighting system can be used for more than 80,000 hours, so we do not need to replace the light bulbs for 10 years for 24/7 operation. We strive to provide the best solution to improve visibility, anti-glare, reduce save energy costs and maintenance frequency of unloading area, container storage area, or any special crane lighting application inside sea port lighting areas.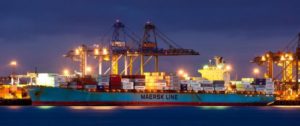 Sea Port High Mast Light & Habor Lights
Sea Port Lights in High Mast setting – it is used for replacing metal halide or HPS light in the range of 250W to 4000 W. The light has a 5 Years Warranty. These lights consume less energy and are more efficient to produce more than 200,000 lumens. In addition, they have the last type of lens that causes approximately 90% lumen utilization. We will help as much as possible when there are storage places, containers and storage places that require high mast sea port lighting systems. Our support officers & engineering are always prepared for customer's inquiries and provide the best advice for purchasing LED sea port lighting solutions whether they are port lighting systems or LED hanger lighting systems. Besides, we are constantly striving to provide superior sea port lighting solutions according to customer's requirements, such as seaport lighting system, harbor lighting system, hanger lighting system, and other vast area lighting solutions. We have a team of experts to handling the DIALux reports & lighting design. We offer top quality products only.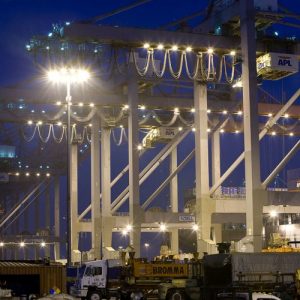 Types of LED Sea Port Lighting
Some of the long-term benefits of LED lighting systems includes: The LED lighting system reduces the maintenance cost by up to 60% compared to the total cost incurred when using metal halide lights. Also, the life span is 80,000 hours which greatly save you maintenance cost of the sea port lighting. LED hanger lighting: LED hanger lighting is a wonderful light source for lighting for port docks and terminals, especially applied to outdoor installation. Our LED hanger lighting system improves the lighting quality of the whole port even though it is attached to the outer wall, the deck area, the seaside pole, or the top of the key crane. Harbor light – sea port light inside harbor gives a new appearance to the wharf and the carrier. TACHYON provides the best harbor lighting & sea port lighting options that will more effectively illuminate your port key area. Harbor light is also important from a security point of view; it is because adequate illumination can assist CCTV recording & also let the people feel safe. By using LED sea port lighting system for seaport terminal, we can guarantee improvement of energy efficiency and safety.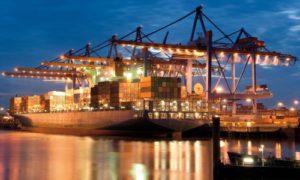 Material of LED Sea Port Lighting, Harbor Light & Shipping FloodLights
Sea Port Lighting is susceptible to corrosion because of the salty mist of sea. How TACHYON deal with this issue? Our harbor light fixtures & sea port lighting passed the harsh salt water and wind test. These lights are made of high quality aluminum alloy outer shell & polycarbonate lens cover, and are very well built and powerful, which have been in use for many years at your port and container facility. We offer 5 Years warranty as well.
If you are worried about how to change the traditional port lighting system, we will assist you with high quality LED sea port lighting including the lighting design and arrangement of installation. The invention of the new LED lighting system was made to strengthen the port lighting. The new LED sea port lighting has the ability to last about 80,000 hours or more.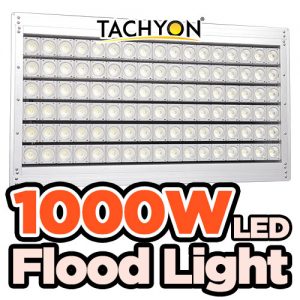 Product Enquiry on Sea Port Lighting LED